We have an established collaboration with the plasma group of the Excited State Chemistry Group, Research Institute for Environmental Management Technology,at the National Institute of Advanced Industrial Science and Technology (AIST) in Tsukuba, near Tokyo. In addition, we are developing collaborations with plasma groups in Poland, Czech Republic and Iran. Professor Young Sun Mok from Cheju National University, Korea, spent a sabbatical year with us during 2007.
Professor Futamura from AIST visited the UK in February 2005 and Dr H-H Kim, also from AIST visited in 2006 (see photo of Dr Kim's visit, above).
Alice Harling won a REES (Research Experience for European Students) Scholarship to spend July and August 2005 at Tsukuba initiating joint experiments. In the following year, Sarah Hill spent the summer also doing plasma research at AIST supported by JISTEC. Helen Gallon spent the summer of 2009 at AIST supported by JSPS. JSPS also supported a visit by Maria Prantsidou to work with Prof Akira Mizuno in Toyohashi University during 2011.
Christopher Whitehead visited Toyohashi and Osaka Prefecture Universities and AIST in July 2005


Click a picture to see a larger view.
---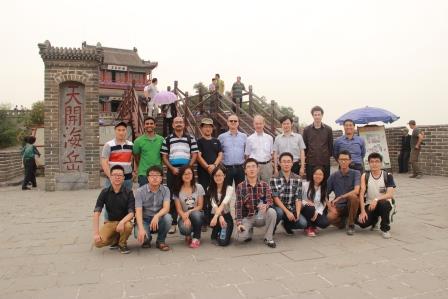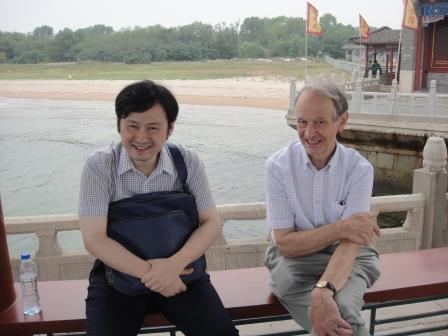 Photos (Top Row from top left). 1. Lunch with Naser Matin (Iran), Young Sun Mok (Korea), Vladimir Demidyuk and Christopher Whitehead, March 2007. 2. Graduation 2007: Alice Harling (Ph.D.), Sarah Hill, Iran Choudhary (M.Ent.). 3. Graduation July 2007: Victoria Ramsay (B.Sc), Sarah Hill, Alice Harling (Ph.D.) Tarryn Blackbeard (M.Chem.) - Tarryn and Victoria were both undergraduate project students in the group. 4. Relaxing at the ICPIG conference, Prague, July 2007- Dr H-H Kim from AIST is on the far right and Prof Young Sun Mok on the far left.
Middle Row (from left)Visit to Manchester by Professor Toshiaki Yamamoto, May 2007. 6. Visit to Research Institute of the Petroleum Industry, Tehran, Iran, November 2008, listening to Naser Matin.
Bottom Row. ISPECM-2014 Conferenec in Tianjin, China, September 2014. Left: Group Photo includes former vistors to the Group (Prof Young Sun Mok (Korea), Dr H-H. Kim (Japan) and Prof Ch.Subrahmanyam , "Subbu" (India). Right: Xin Tu and Christopher Whitehead